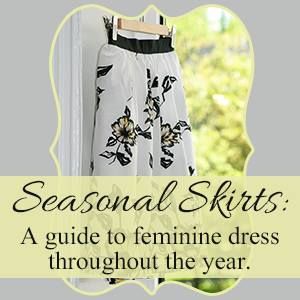 A few years ago I made the personal choice to wear just skirts. I was sick of spending hours trying on every pair of pants in the store (it seemed,) only to find nothing I felt comfortable wearing. My shape just always seemed wrong for the pants that were made for mass consumption. My shape kept changing too, with shifting weight gain and rare loss, which made it even more frustrating. One summer for a ladies' weekend retreat I packed one pair of pants and two skirts; only to find out once I was there that the pants didn't fit! I spent the weekend in just skirts and...it was so comfortable! That was it for me, and I haven't gone back. I currently own zero pants that are fit to be seen outside of the house, and one pair for around the house that I rarely wear.
I also have chosen for myself to mostly wear ankle length skirts. That way I don't have to worry about having a Marlyn Moment, or bending over, or have to worry if I've shaved recently enough. It has been so freeing for me. The trouble is, sometimes it's hard to find a skirt that fits my personal preferences. I tend to also think fuller skirts flatter my figure more than straight up and down, and that's not necessarily in high demand. Which means less availability and higher prices. So when Dusty from
To the Moon and Back
asked me to share about my skirts for her blog hop, I was happy to help others looking for similar to what I like. (And hopefully be pointed in the direction of some new skirts!) Here are four skirts for spring:
Picture by Builder Boy
Picture by Early Bird
This purple skirt I actually have also in navy blue and in gray. I purchased the purple one and the gray one last year around January after I became pregnant at Kmart, and the navy blue two years before that. So it's probably something they sell every year. I
think
they sell it in the fall/winter time (because it's long.) They are generous enough in the elastic, and I was so sick with my pregnancy, that they fit through the whole pregnancy, and fit just fine now. It's a great casual skirt. It's not as full as I usually prefer, but for less than $20, it's a good deal. Sticking around the house, I wear it with a t-shirt or long sleeve shirt, depending. For leaving the house, I like it with this ruffle shirt that was a gift. Since it's still a bit cool here, I add the....I have no idea what this is called. It's a white.....button-less sweater? I picked it up at Walmart last year. Come fall this year I'll be heading back to Kmart to see if they're selling this skirt again in another color.
Picture by Builder Boy (in a rush)
Later that day
This floral pattern skirt is one of my all time favorites. I love the way it flows and swirls! I love the sound of it swishing, the fell of it trailing behind me coming down the stairs....this skirt makes me feel like royalty. I also get complements on it from strangers when I leave the house in it. It's pretty enough for special occasions, but the fabric is washable enough that I'm comfortable wearing it around the house any day. I got it on Amazon.com from a company Skirts 'N Scarves and sadly, at the time of writing this they're
sold out
, but they do have similar skirts for around $20. So far I just wear it with solid color, nice t-shirts. I have not yet found the shirt style that is my favorite like skirts are, so I go with what I have that is simple.
The skirt that started it all.
This beige/tan skirt was the skirt that convinced me that I could go skirts-only. The cloth is stain resistant and durable, and is great for things you shouldn't do in a delicate skirt like gardening or deep cleaning the bath tub. I wish I had several more of these. I originally got it 3 or 4 years ago, on sale at the end of a season at Old Navy (maybe $10 on sale?) I've got back once or twice since then, and bought a different ON skirt, but they didn't have any more of these at the time. But I'm going to keep looking, because having more than one of these would be very useful. Because it's a neutral color, I can wear it with any top I have. It is actually a size or two too big for me. I have to wear it with the elastic folded over a belt to keep it on. (It fit better when I first bought it.) I knew it was a bit big when I bought it, but I didn't mind the extra fabric. It's been comfy when my weight swings up, and I can always keep it on with a belt. Better too big than too small! It was the only size they had (clearance sale.)
Picture taken by Principal Daddy
My fourth skirt I'm sharing about I have
mentioned before on my blog.
This is my favorite special occasion skirt. It's the
Sakkas Raw Edge Tiered Ribbon Gypsy Boho Long Cotton Skirt / One Size
that I found at Amazon.com for $25. I wore it for Easter, and probably wear it once a month to church. And sometimes at home, when I'm not going to be doing on my hands and knees cleaning and want to feel extra pretty or need a pick-me-up.
I have not been successful at finding a comfortable, ankle length skirt, in a pattern I like, in my
size
at a thrift store. And I've looked; a lot.